*yawn* So.. my sister's been nagging me for nearly a week to get the photos off the camera from the weekend in Seattle. I finally sent them to her to get the girl to stop bugging me. Looking back at the photos though - Washington is really lovely, lots of trees and lakes and even mountains. Considering how much better the cost of living is up there - I was sorely tempted to consider a move.
I got in on Friday night but before that , I was in San Diego at the airport waiting to get on the plane. A piece of advice for those women out there in their late 30s who were pretty darn cute about 10 yrs ago, and are still dressing like they are 17? Please... save yourself the embarrassment, and DONT. Sitting on my little chair at the gate I watch this late 30s something woman - she looked Thai or Filipino, still a pretty good looking body, mostly firm with maybe a hint of cellulite on the backs of her thighs. (of course we notice this shit - its just something women DO - I just happen to comment on it on my own catty goodness way!) Anyhow - back to this woman - she had on a micro mini and satin PUMPS. If you have to tug your skirt down to shift your weight from one leg to the other? Its too short. This is the airport and not Pure Platinum. There are kids running around that do not need to see exactly how Brazilian your wax is.
Now that I've given you that mental image - on to the photos!
No.. sorry... did not get a snap of the woman's hoo ha or anything like that.
We started out with dinner at Wild Ginger in downtown Seattle. It was really packed, a sort of foo-foo yuppy filled Asian fusion restaurant. Quite expensive but the food was really good - authentic tasting and we tried a few of the "Vietnamese" labeled items and were not disappointed. Of course both of them just got their hair and makeup done and I'm sitting there post flight dehydrated and looking about as fresh as a wilted rose.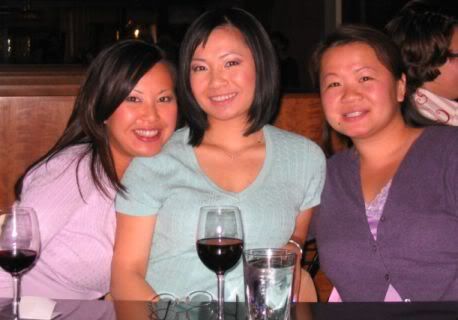 Saturday was a mellow day - we cooked a traditional Vietnamese banquet with eggrolls, green papaya salad, sour seafood soup, salty garlic prawns and rice. Hung out and had some friends over at my sister's place and drank beer on her porch talking to her neighbors.
Sunday on the way back to Seattle we decided to have lunch at Pike's Market, and I snapped a few photos of the gorgeous Washington scenery.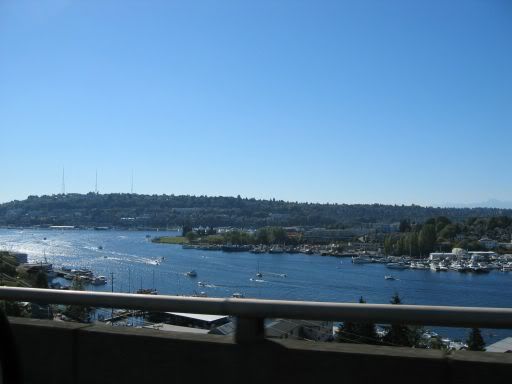 Pike's Market - the orange jumpsuit guy was throwing the fish. Just try and tell me that any guy in orange clown pants and suspenders doesnt scream SEX ON A STICK. He's lucky I didnt jump his bones on top of the tilapia filets.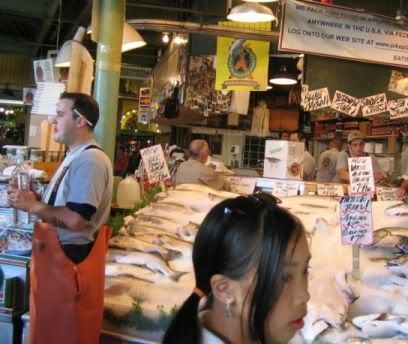 View of Mount Rainier on the way to the airport - just lovely.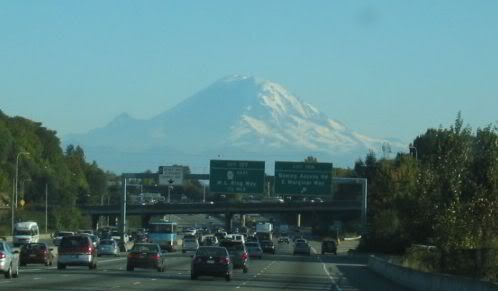 On the knitting front - I'm about halfway through Clapotis. The dropped stitches keep it from being mind numbing but I can't help but wish I had a little more of a challenge. Makes for a good car knit though.
Also! I was contacted via email by someone who works at the Oceanside central library and she wants to put together a knitting and spinning exhibit at her branch by my house. She wants to display some knitted items so I may reblock Charlotte so she can display that, and I need to do some icord handles for another finished Booga J bag. She also wants to do a live spinning demonstration so I'm pretty excited about that. Trying to recruit Wendy and Heidi to come up for it too.
Shindig this Sunday! If you need my address - shoot me an email!